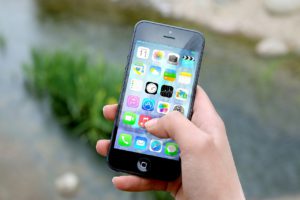 A guest post by Sophorn Chhay 
We now live in a world where social rules and smartphones have changed access across the globe. What a pleasure to host this guest post by Sophorn Chhay. Sophorn shows us how mobile marketing is changing the way we raise funds!
It's hard to believe that some charitable organizations still depend on cans by grocery store cash registers and bell-ringing volunteers to reach their fundraising goals.
While it's true that every penny counts, no one carries pennies anymore.
See the problem?!
These old-school strategies worked because they hinged on one central, rather smart, idea: go where the people are. The problem is that those people don't keep their money with them anymore, and they don't have time to search their pockets on street corners or sit in front of the television waiting for the 800 number to flash on the screen.
We've gone digital, and nonprofits need to keep pace or risk losing the funding they need to help the cause nearest and dearest to their hearts.
Enter mobile marketing, perfect for finding people where they already are (even if that's always changing), and find their spare change – or thousands ear-marked for groups just like yours – at the same time.
How Mobile Marketing is Changing the Way We Raise Funds
Some 80 percent of internet users now own a smartphone, so it's no surprise that almost as many (72 percent, to be exact) say that they want mobile-friendly websites. These websites are designed to be viewed on mobile devices and feature responsive design so that the website adapts to whatever device it's viewed on.
You can create a mobile-dedicated site at a separate URL (such as m.yournonprofit.org in addition to www.yournonprofit.org) or update/create your primary site to suit both audiences.
As you develop your online presence, a slick and fast-loading mobile website becomes more and more important. When people are in the mood to give, you want them to be able to do so without stress or interruption.
A lot of nonprofits have already launched email campaigns, but did you know that email only has a 20 percent open rate? Contrast that with text messages, which have an almost unbelievable open rate of 98 percent. Send a text to potential donors and it's almost guaranteed that they'll read it. What better what to get your message out? You can also use automated messaging to streamline the process. Enlist the considerable talents of a company like Textpedite and you can:
Launch a text-to-join campaign that allows potential donors to subscribe to your text-based newsletter simply by texting a keyword to a unique short code
Remind subscribers about an upcoming fundraising gala or promote the needs of other non-profits
Send bulk messages that let your entire network know when you're ready to launch your app or when you need ASAP donations to combat a funding crisis
Set up an auto-responder to welcome new subscribers or thank donors for their contributions
And that's just for starters!
Creating a mobile app is one of the best ways you can jumpstart your mobile strategy. Of the three hours the average smartphone user spends on their device each day, 89 percent of that time is spent on mobile apps. The key is to create an app that serves your purposes while also somehow captivating the interest of your audience.
The Red Cross's Blood Donor app doesn't just ask for blood donations, it helps the user find a blood, schedule an appointment, and even hooks them up with rewards from popular retailers. Charity Miles appeals to people who love to walk, run, and bike; every mile they log through the app turns into money that can be applied to the charity of their choice.
If you want your nonprofit to succeed, you have to incorporate marketing into your overall strategic planning, and mobile marketing needs to be at the forefront of your game plan. What's your take on mobile marketing for nonprofits?
What's Next?
How do you ensure that your donors are getting the best mobile experience possible when interacting with your organization? Make sure to share them with us in the comments below. I would love to read them.
Author Biography
Sophorn Chhay is the marketing guy at  Trumpia, a mobile content delivery service that allows users to customize their one-to-one marketing efforts by interconnecting and optimizing all digital platforms. As an innovator in two-way SMS/MMS marketing, Trumpia's mission is to empower brands and public figures with interactive access to their audiences, reaching targeted affinity groups in a personal way. Trumpia delivers world-class content such as video, ticketing, polling, products sales, contests, and giveaways.
Follow Sophorn on Twitter(@Trumpia), LinkedIn, Facebook and Google+