In a recent blog post Fundraising without special events? No Way! I review the importance of integrating special events into development, which I learned in 2007 from Jeff Shuck, President & CEO Event360.
Today's post focuses on Independent Fundraising Events (IFE). These are activities designed and run by non-staff volunteers to raise money on behalf of a specific nonprofit. They are conducted locally with minimal support from the beneficiary.
The types of activities that these local supporters conduct are quite literally endless. They can range from a bake or garage sale to a wine tasting or gallery opening.
One of the major advantages of IFE is that the costs are covered by the independent event organizers.
Other benefits of IFE –
An effective addition to any organization's development portfolio.
Independent fundraisers are more likely to have a much stronger and direct emotional connection to the organization.
Great way to give these highly dedicated individuals the opportunity to match their passion without the limitations of traditional fundraising events.
How can your nonprofit support Independent Fundraisers?
Develop a secure website with useable tools:
Media Kit and publicity guide
Approved logos, graphics, banners, stickers
Informational pieces
Personal fundraising page for online donations
Printable donation forms
Registration materials
Staff support
Of course, there are IFE Challenges. As described by Zach Anderson, at the Canadian Internet Summit, these include:
Budgeting Revenue from events
Justification of Costs
Connecting with IFE donors
Providing supplies and giveaways
Reputation/Brand Risk
Shortage of staff support
Unavailability of board members to participate
Two organizations standout to me as providing great support to independent fundraising events. These are:
Alex's Lemonade Stand – Fighting Childhood Cancer One Cup at a Time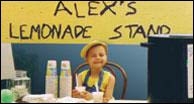 Team Fox – Michael J. Fox Foundation for Parkinson's Research
What better way to augment your special events than with independent fundraising events?