I'm often asked if it is smart to hold special events during challenging times.
My response – Absolutely!
Special events bring attention to your mission and help generate publicity for your nonprofit. They are an excellent  fundraising tool, as they encourage donors and sponsors. And, special events are great for engaging your leadership and volunteers.
Special events have been the mainstay of successful fundraising since the Civil War. The Ladies Soldier's Aid Society of Kalamazoo raised $9,618 for wounded and sick soldiers at a four-day special event at the Kalamazoo Sanitary Fair in 1864. (Orosz, 1997)
The first known American Red Cross fundraiser was a play produced by six children in Waterford, Pennsylvania in 1884 to aid flood victims. The organization's fundraising focus changed virtually overnight in 1917 when President Woodrow Wilson created the Red Cross War Council. A series of special events including bazaars, block dances and "Kick the Kaiser" parties raised $115 million.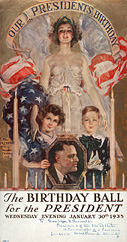 During the Great Depression, the Georgia Warm Springs Foundation, started raising money with an annual "President's Birthday Ball." The balls were held every January on Roosevelt's birthday. The balls were so successful that in 1938 they were merged into the National Foundation for Infantile Paralysis, later renamed the March of Dimes. (March of Dimes website)
As 2009 closes and we look towards 2010, I offer these "Special Events" Resolutions to you and your organizations:
We will host at least two special events in 2010
The events will be integrated into our development plan.
We will start our planning early with brainstorming sessions that engage our board members.
We will invite new people to the table and think "Outside the Box."
We will stay true to our mission and focused on our goals when we plan special events.
My best to you and your family for a healthy, creative 2010.