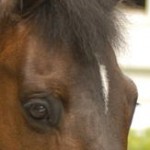 What, you might ask, does Pascha's eye have to do with branding?
Pascha is a Dutch Warmblood. The breed is known to be very versatile. They excel in top level completion – dressage, show-jumping, eventing and even carriage driving. Calm and even tempered they are always willing to give us as much as possible.
So, when I first met Pascha and saw his brand I had expectations of his brand promise. The brand helped differentiate him from the other horses I met at the same time.
Yes, I am a strong believer in branding, especially in nonprofits. A strong nonprofit brand is essential to raise awareness and cut through the ever- increasing noise.
A brand means owning a position in a person's mind. According to Marty Neumeier, author of The Brand Gap, a brand is a person's gut feeling about a product service or organization.
A nonprofit's brand is a source of a promise to the clients, donors, volunteers & other stakeholders. Everything the organization does should be focused on enhancing delivery against its brand's promise.
Branding creates strong relationships, loyalty and an awareness of a nonprofit's good works. A brand differentiates an organization from others, communicates commitments, establishes a distinct position in the mind's eye of target audiences and builds equity.
What are the elements of a good nonprofit brand?
Uniqueness – what sets your organization apart from others in your niche?
Authenticity – does your organization stay true to its core values?
Consistency – is there consistency in your messaging and your visual elements?
What are the benefits of branding?
Connections to donors, sponsors and your community.
'Leg-up' in securing your place in your niche
A sense of unity and strong morale within your organization
The branding process needs to be participatory with a cross selection of staff, board and consultants or volunteers versed in branding initiatives.
Want more information on conducting brand research? Please email deborah@creative-si.com. Request the CS&I branding template.
PS – Pascha fulfills his brand promise every day!